I originally posted this article on January 4 of this year. At that time, David was still signed to a label and everyone was anticipating a nationwide tour to promote his latest album,
The Other Side Of Down
. In in this article, I explained why I felt that a tour stop in Austin, Texas would be a great idea. Unfortunately, this tour never materialized. Jive dropped the ball and didn't promote
TOSOD
, much to the bewilderment and disappointment of David's fan base. Since that time, David has split from Jive and has taken time to relax and find himself. David just completed an exceptionally powerful mini tour in Asia this past month. Now we fans are all anxiously waiting on word of tour stops for a possible winter tour in the states. As fans start to wonder where and when we will be able to see and hear David "live" again, speculation grows and our minds start to ponder ideas of songs he can cover and venues worthy of the magnificence of The Voice. Just yesterday the Canadian fan site
Snowangelz
posted an article asking "Where is your @DavidArchie dream venue." So I have decided to update my post with some new venue information as well as venue photos and send this idea back out into the world. If, by any minuscule chance David or any of his team happens to read this, please consider Austin for any future tours.
Note: The top four shots of David and the shot of The Civil Wars are mine. All of the other shots are my husbands
Limelight Imaging
except for the house shot of ACL-Live which belongs to Scott Newton, their house photographer.
My Plea For a Tour Stop in Austin
David Archuleta has been telling us, his fans, that plans are in the works for a tour. We all are anxiously awaiting the details, hoping that our cities, or at least some that are near us, are included on the itinerary. We all want to see David in our home towns but obviously that can't happen. He can't be everywhere. There are many fans who have been fortunate enough and financially able to travel all over the country, and some all over the world, to be able to see David perform live. Unfortunately, there are many, many more fans who are not able to travel anywhere outside of their own cities, who would love to see David perform live. I have been blessed with the opportunity to see David perform live 4 times now, all in the state of Texas, but never in my home, Austin. I traveled to San Antonio to see him in March 2009, on his first tour,
and then to Houston, to see him open for Demi Lovato on July 3, 2009.
Then there was a terrible drought in Texas, both meteorologically and "Archieologically" (Oh, I made up a new word!) and I didn't see David in an actual performance until this past Dec. 2010, in Dallas at the Children's Hospital benefit.
and then a few days later in San Antonio, again, this time with Kaleidoscope, but performing only two songs.
These last two performances were absolutely wonderful but not long enough to satisfy the need to see and hear David live. The Dallas show gave us a few songs from
The Other Side of Down
and a couple of the songs from
Christmas From the Heart
and a couple of songs from
David Archuleta,
David's first album. Unfortunately, David's performance for the skating show,
Kaleidoscope,
only gave us two songs,
Falling Stars
and
I'll Be Home For Christmas
. Beautiful, but he left me wanting more. I need to see and hear a full concert from this incredible young man, soon.
Since everyone is talking about where new tour stops should be, I thought I would put in a plug for my favorite possibility: I would like to nominate Austin, TX as a great tour stop for David. David has never appeared here. We are the capital of Texas and are centrally located for easy access. (Or at least as easy as it gets in a state this big. An eight hour drive is not that long for David's fans, right?)
We are a very music-oriented city. We are known as "The Live Music Capital of the World" with over 200 live music venues in our city. This city lives and breaths music. On any given night you can find acts performing any kind of music you want to hear: jazz, rock, hip hop, country, Tejano, indie, rap, pop, etc., basically, anything you like.
We are the home of the legendary PBS music program "Austin City Limits" which began in 1976. This year ACL has moved to a new venue and it is wonderful. In the past, only show tapings took place in at the ACL studio but now the theater is open to regular bookings also. The seating capacity is 2,700 in three tiers. There is not a bad seat in the house and this is a seated venue. This photo is from opening night featuring Willie Nelson and a full orchestra.
We are the home of the "ACL Music Festival", an outdoor fest celebrating 10 yrs this Sept., which this past fall hosted 125 acts on 8 stages over 3 days and had approximately 80,000 attendees.
Austin also hosts the South by Southwest (SXSW) music fest and conference. The fest, which is held in March, began in 1987 and has grown to include over 2,000 acts from all over the world playing in over 90 venues in downtown Austin. The music industry conference, which is held at the same time, had over 13,000 industry reps attending last year. David's good friend and co-writer Joy Williams was here this past year for several days of mini shows with The Civil Wars. I was very fortunate to catch them at a small show in the parking lot of a hotel. Yes, music is everywhere in Austin during SXSW. I guarantee they will never play a parking lot here again.
We have some wonderful outdoor venues built specifically for music, including one that overlooks the Texas Hill Country, that David would love. One in particular is The Backyard at Bee Caves. This venue is built on a huge track of hill country land. I love this venue, especially since my husband is the house photographer here. The second photo is Arcade Fire, who performed there recently.
If David prefers, I could suggest a standing room as well as seated venue. The Austin Music Hall is a fun venue that has two levels and excellent acoustics. The upper level is seated but the floor can have SRO or have chairs placed in it. I have attended concerts both ways here, and I prefer the SRO for the floor. This photo, which shows the upper balcony as well as the stage and floor, was shot during a performance by Third Day.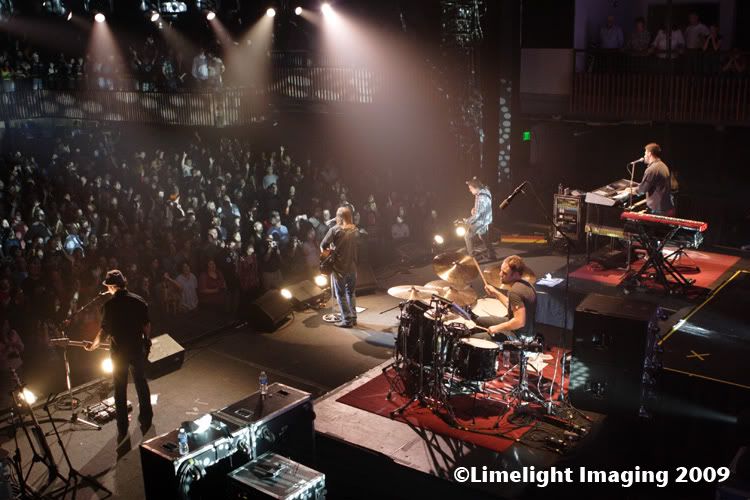 As you can see, Austin has a variety of wonderful venues which would work well for a David concert. He can perform in any size venue that he likes, from tiny clubs to fabulous theaters to a stadium that holds 100,000+. The above listings are just a few of the marvelous concert halls. There are also several on the University of Texas campus that would be perfect as well as the wonderfully ornate Paramount Theater in downtown Austin, just steps from the capitol building, which was built in 1915.
I think that The Backyard would be a perfect place for the concert in late fall. (Maybe then it will have cooled down here and temperatures might be under 100 degrees.) The Austin City Limits -Live at the Moody Theater could be an excellent seated venue. I'm really not worried about which venue David plays at as long as he finally comes to Austin, Texas. I just hope to actually see and hear David perform live in Austin sometime in my lifetime.